Past Events
2017
Paul Menes, Co-Head of Entertainment and Media spent May 24 at the Licensing Expo in Las Vegas.  Diverse brands come from all over the world to exhibit and seek deals for their properties.  Exhibitors range from small start-ups with one brand to major IP holders, such as the major studios, major networks and cable channels, consumer brands, online icons (Grumpy Cat was there) and other types of content owners.
One reason Mr. Menes attend is to see what are the emerging trends and deals.  One of this year's emerging trends was licensing content for virtual and augmented reality (areas of law Mr. Menes been involved in for the last several years).
Mr. Menes mentioned that he also always learns something new when he's there.  One thing he learned this year was while most emoji's aren't protected by copyright, the brand/name "emoji" is a registered trademark.  They apparently made a very nice licensing deal with Sony Pictures to allow Sony to use the brand in "The Emoji Movie".
---
Paul Menes, Co-Head of Entertainment and Media attended MUSEXPO, the international music conference in Los Angeles recently.  It remains over its years as by far one of the best run, most useful conference around.  As always, Mr. Menes had an engaging and enlightening time there.  It allows him to catch up with existing colleagues, especially those from Europe and Asia, meet and forge relationships with new colleagues and hear great music from promising new artists.
Mr. Menes was a panelist this year on the "Global Forum: Future Casting the Evolution of the Entertainment, Media and Technology Industries" panel. The other panelists were a diverse and interesting group of music professionals from various facets of the industry.  The two moderators, Arnold Peter and Bill Simon did a great job putting together an interesting and informative panel.  Several people told Mr. Menes that it was one of the highlights of the conference.
---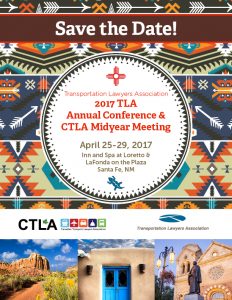 Anthony McClaren, Head of Transportation and Employment at ADLI Law Group attended the 2017 Transportation Lawyers Association Annual Conference and Canadian Transportation Lawyers Association Mid-Year Event in Santa Fe, New Mexico, which took place from April 26 to April 29.  In attendance were more than 200 lawyers from the United States, Mexico and Canada, all of whom practice law related to the transportation industry.
Mr. McClaren attended more than 18 hours of continuing education on subjects ranging from employment misclassification, motor carrier issues, maritime issues, railroad issues, aviation issues, commercial freight claims, technology advances in the transportation industry, new language for carrier, broker, shipper agreements and many other sub-topics.
In addition to the educational events, Mr. McClaren networked at the finest restaurants in Santa Fe, attended small break-out sessions with other practitioners, presented on the topic of marijuana and its impact on the transportation industry, and even had a chance to jog in the high altitude and snowy hills that make Santa Fe the capital of The Land of Enchantment.
Mr.  McClaren continues to develop his expertise in the transportation industry, with an emphasis on labor and employment issues, wage and hour issues, misclassification issues, and overlapping worker's compensation claims and EDD claims.
If you have any questions in this field, please do not hesitate to contact Mr. McClaren.
---
Paul Menes, Co-Head of Entertainment and Media, and Olfa B'Chir, European Attorney, at ADLI Law Group attended the 2017 MAGIC show in Las Vegas. Olfa B'chir  having extensive background in fashion, both on the business and legal side, along with Paul Menes' extensive IP and digital media experience, opened them both up to different opportunities at this large scale event. Paul and Olfa met and heard some amazing people during their experience at MAGIC.  It was a great opportunity for networking. Well established and upcoming brands were exposing their work. As a team, they learned what's new and hot now in fashion from vendors based in LA, Las Vegas, New York, but also Europe and Asia. They also saw and heard how virtual reality and augmented reality are, like in many other industries, becoming total game changers in all facets of the garment industry.
Throughout their day they found one of our high-end clothing manufacturing client's (who was exhibiting at the event) proprietary, whose trademarked designs were being knocked off by several companies also exhibiting there. Due to their findings in regards to our client, Paul and Olfa will be taking further action in our client's favor.
---