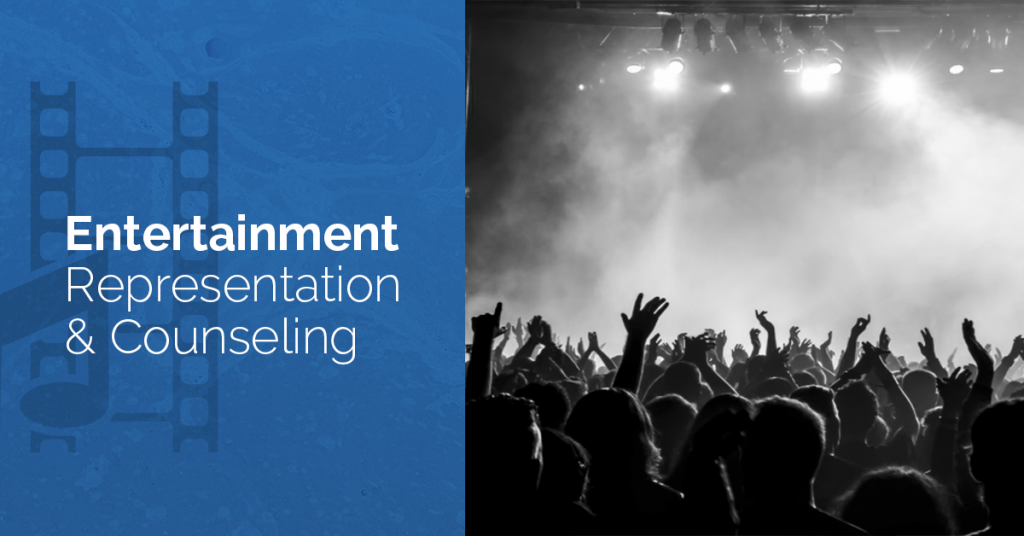 Creative types and endeavors come with unique issues. These issues require inventive, strategic advice and solutions to effectively (and cost-effectively) manage them, and for the creatives to achieve success — the exact type of unique counsel ADLI Law Group's entertainment lawyers provide.
Our highly-skilled entertainment transactional lawyers have decades of experience representing clients across all entertainment platforms—TV, film, music, radio, literary, digital, fashion, and related IP. They've seen and can handle pretty much anything in these artistic areas.
That's because they represent clients in all facets of these platforms. This gives them a 10,000-foot view and exceptional understanding of how all the moving parts of entertainment endeavors need to interact for our clients to be successful in them, and how to structure, write, and negotiate those deals accordingly.
Our entertainment clients include: actors; entrepreneurs; social media influencers; film and TV producers; writers; platinum and up-and-coming recording artists, DJs, producers, mixers, songwriters, and composers; personal managers; talent and commercial agencies; all manner of content creators, licensors and licensees; industry executives; publishers; authors; and post houses.
ADLI Law's entertainment attorneys also have extensive entertainment and related-IP litigation experience in all manner of entertainment and IP issues, including defamation, privacy, copyright, and trademark matters. This experience inside the courtroom, from both the plaintiff's and defendant's perspective, as well as inside the boardroom negotiating entertainment deals, provides a unique value to our clients that is rarely seen, even at the so-called "big firms" – it taught our attorneys what can go wrong with deals, and ways to prevent it when drafting and negotiating these contracts. We also have better foresight into how judges and juries view and react to the unique contracts and issues that are necessary and common place to the niche practice of entertainment law.
The services we offer our entertainment clients include handling:
 General entertainment advice and counsel
Content creation, distribution, and monetization agreements
Copyright and trademark protection and enforcement
Publicity and privacy rights protection and enforcement
Talent branding/endorsement agreements
Entertainment entity formation
Confidentiality/non-disclosure agreements
Management, talent agency, talent, syndication, and option agreements
Employment and engagement/independent contractor agreements
Licensing and merchandising agreements
Book publishing and other literary agreements
Entertainment disputes and litigation
Data breaches never cease to grab headlines these days. In fact, we hear of them so often that the destruction they leave behind may not even make many of us…
The twenty-first century law firm is beginning to look like the twenty-first century. A look around the office shows maybe half of the computers are warmed by the physical presence…
This fall nearly 20 million students will be attending college, according to information from the National Center for Education Statistics. While most incoming and returning college students are busy focusing…