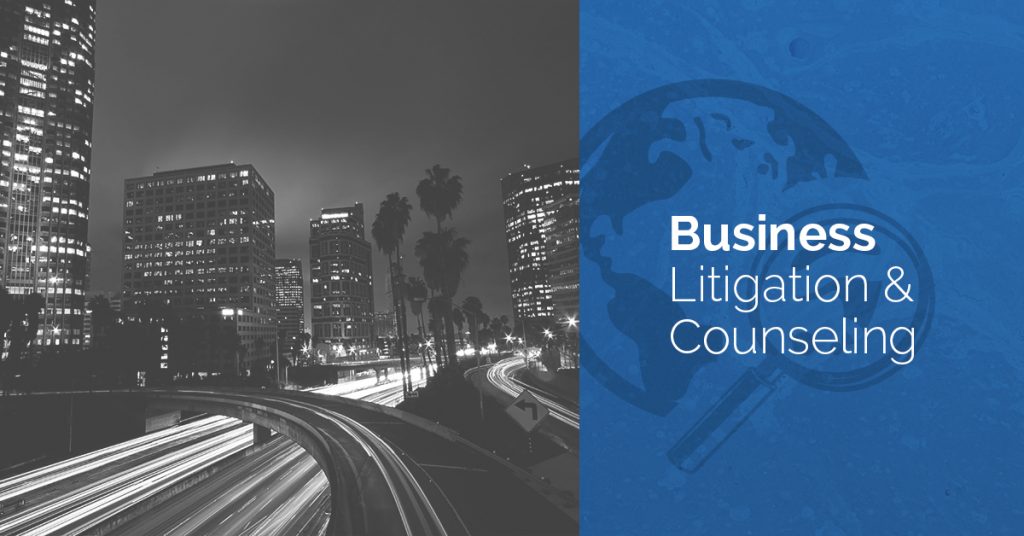 ADLI Law Group offers its clients, including multinational corporations, partnerships, small business owners, limited liability companies and startups, high quality legal representation with a client-focused, value based approach to providing representation in all types of cases requiring business counsel or business litigation.
In today's competitive and multi-faceted economy, disputes need to be anticipated or, when arising, resolved quickly and efficiently to minimize any disruption to a growing concern. That's where our business and litigation lawyers come in.
We understand that many business disputes are rooted in business contracts and our business lawyers have considerable experience representing clients in formation and management issues along with a wide range of commercial disputes. We handle breach of contract disputes ranging from the failure to comply with construction contracts, disputes over software licensing agreements, real property disputes, deficiencies in the sale of goods under the U.C.C., failed corporate acquisitions, partnership disputes and corporate dissolutions as well as intellectual property law cases. When you need the help of a top business lawyer, ADLI Law Group should be your first choice.
Business Transactions
At ADLI Law Group, you will find a smart and nimble group of attorneys trusted by local, national and international entrepreneurs to advise and handle their business transaction needs. We counsel startups to identify the most suitable business structure based on their goals, and needs. In forming a professional entity, the team of business lawyers at ADLI Law Group takes the time and attention it takes to understand your unique goals and organizational objectives.
We are experienced in the formation of:
Corporation (Inc, Corp, S Corp)
Limited Liability Companies (LLC)
Limited Partnerships (LP)
Limited Liability Partnerships (LLP)
General partnerships
Joint ventures
Non-profit organizations
ADLI Law Group is focused on providing its clients with strategic counseling, personal service and value – and always at competitive rates. Whether it is initiation of contact with the opposing party regarding a dispute, negotiating and concluding settlement agreements, litigation or other effective representation in court, each business law attorney at ADLI Law Group is ready to provide its clients with first rate services at competitive rates.
Our business attorney firm handles a broad spectrum of contract matters including:
Operating Agreement
Corporate Restructure
Licensing Agreements
Purchase and sale agreement
Non-compete and trade secret agreements
By-laws
Contracts for sale/purchase of goods and services
Non-disclosure agreements
Indemnity agreements
A Leader in Business and Intellectual Property Law
Founded and led by Dr. Dariush Adli, a leading business and intellectual property lawyer, ADLI Law Group offers legal services for organizations in a broad range of areas. Whether you are in need of help with patents for a high tech business or want to protect a creative work with the help of the kind of top entertainment litigation lawyer Los Angeles businesses and individuals trust, we are here to help. For legal advice to head off possible issues or the helping of a leading litigation business lawyer, there are few better resources.
---

Data breaches never cease to grab headlines these days. In fact, we hear of them so often that the destruction they leave behind may not even make many of us…
The twenty-first century law firm is beginning to look like the twenty-first century. A look around the office shows maybe half of the computers are warmed by the physical presence…
This fall nearly 20 million students will be attending college, according to information from the National Center for Education Statistics. While most incoming and returning college students are busy focusing…