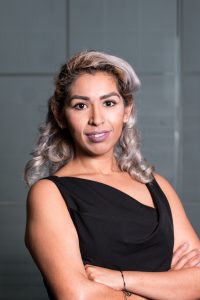 Anabel Rodriguez is the Executive Administrator at ADLI Law Group.
Anabel has over 7 years of legal experience including litigation support, accounting and management, and client relations. She currently handles all client communications regarding accounting and billing. She is also the executive assistant to the Director of Operations of ADLI Law Group, Nicolette Hachem-Sawaya, and assists with all Administrative and Management.
Prior to joining ADLI Law Group, she worked as Office Manager of X Law Group and managed an office of 3 attorneys practicing Bankruptcy, Class Actions, Criminal, and Civil and Business Litigation. Anabel brings her motivated drive and versatile skills to the ADLI Law team and is responsible for the direct communications with Vendors and Clients.
---
---
Education:
Language:
English
Spanish
Russian (Elementary Proficiency)
The twenty-first century law firm is beginning to look like the twenty-first century. A look around the office shows maybe half of the computers are warmed by the physical presence…
This fall nearly 20 million students will be attending college, according to information from the National Center for Education Statistics. While most incoming and returning college students are busy focusing…
Earlier this year, the U.S. patent and trademark office (USPTO) issued two patents to giant online retailer Amazon ("Amazon Patents") for wristbands that are able to locate users' hands and…